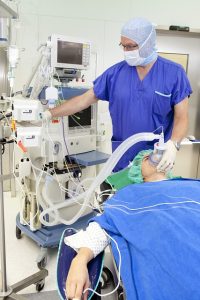 Pain management is a hot topic in the field of health care right now. If you are interested in dedicating your career to the safe and effective use of pharmacological therapy for patients during and after surgical procedures, you might want to consider pursuing a residency in anesthesiology.
About Anesthesiology
As an anesthesiologist,  you would be responsible for the administration of anesthetics to patients during surgery. Before a procedure, you would develop a plan for general or regional anesthesia, accounting for a wide range of factors related to the patient's current condition, medical history, and the nature of the procedure. During the surgery itself, you would be responsible for the administration of the anesthetic drugs, and afterward, you would remain on-call in order to assist with any complications that might arise. In addition, you would play a role in the development of post-surgery pain management strategies.
To be a successful anesthesiologist, you need to be a great team player. In the operating room, you will be working in conjunction with surgeons, surgical assistants, nurses, and technicians. In the pre- and post-operative rooms, you will share the duties of patient monitoring with nurses and nurse anesthetists. When planning a post-operative plan for pain medication, you will probably communicate closely with the patient's regular doctor. Therefore, if you thrive in collaborative settings, anesthesiology could be the specialty area for you.
Anesthesiology Residency Programs
Anesthesiology programs in the United States last for three years. The first year is typically dedicated to learning the basics of the field through a combination of lectures, grand rounds, and clinical experience. Topics of study include intubation, line placement, and strategic planning for anesthetic administration and reversal. In the second year, you will do rotations that provide hands-on training in critical care and expose you to the subspecialty areas within the field, which include:
Obstetrical anesthesia

Cardiovascular anesthesia

Thoracic anesthesia

Neuroanesthesia

Ambulatory anesthesia

Regional anesthesia

Transplant anesthesia

Post-anesthesia pain management
The work you do in your third year of an anesthesiology residency can depend on the program and your interests within the field. If you know you want to pursue a clinical career, you will have the chance to hone your clinical skills by working with more challenging and complex cases. Alternatively, if you are interested in conducting cutting-edge pain medicine research, some programs give you the chance to conduct highly specialized research in order to advance medical knowledge in the field.
Clinical Externships in Anesthesiology
If you are a foreign medical student or medical school graduate looking to get an anesthesiology residency in the United States, a clinical externship can be a great way to gain experience and increase your likelihood of getting matched. In a clinical externship program, you would gain experience working under the supervision of multiple physicians, giving you the chance to learn about various subspecialties or even find out what it is like to balance a clinical job with pain-related research. That way, when you prepare your residency application, you can present a clear vision for your future career, and you may also be able to supplement your application with letters of recommendation from attending physicians.
If you are a foreign medical graduate and want to learn more about clinical externships in anesthesiology, or get general assistance with the overall residency application process, FMG Portal offers great resources. Contact us today to take the next step toward a future career as an anesthesiologist!