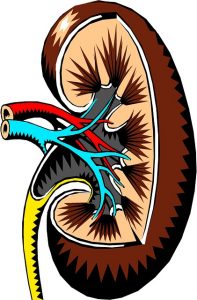 Kidney disease is a growing problem around the world, but if you are looking to specialize in nephrology, one of the best countries to train in is the United States. According to the National Institutes of Health, about 14 percent of the American population has chronic kidney disease (CKD), as compared to only 10 percent of the world population as a whole. In total, about 661,000 American have kidney failure. About 468,000 of these patients are on kidney dialysis, and about 193,000 have a functioning kidney transplant. According to the American Journal of Kidney Diseases, the prevalence of CKD in the United States is expected to increase by 27 percent by 2030.
The two most common causes of CKD are high blood pressure and diabetes, with almost half of CKD patients reporting that they have been diagnosed with one or both of these conditions. That's why CKD is so common in the United States — because of the high prevalence of cardiovascular disease and diabetes. However, its is important to note that changing lifestyles in developing countries are also raising the rates of these diseases worldwide, especially as the number of elderly individuals in countries like China and India grow. Therefore, in the future, there will probably be a high demand for nephrology specialists around the world.
If you are looking to become a nephrologist — that is, a physician specializing in the treatment of kidney disease — it just makes sense to complete your residency and fellowship in the United States, given the high rate of CKD in the country and the likelihood that it will rise in the future. Read on to learn more about the educational pathway to becoming a nephrologist.
Internal Medicine Residency: The First Step on the Path to Nephrology Career
Because nephrology is a specialization within the field of internal medicine, the first step to becoming nephrologist (after finishing medical school) is to complete an internal medicine residency program. These programs last for three years, and they are particularly popular among foreign medical graduates. Of all the foreign medical graduates who were matched to residency programs in the United States in 2015, 67.3 percent were matched to internal medicine programs, according to the National Residency Matching Program (NRMP).
In an internal medicine residency program, you can expect to gain a broad background education in the diagnosis, treatment, and management of disease and disorders that affect all of the internal body systems — including the renal and urinary systems. In addition to your clinical and didactic training, you may also have the opportunity to engage in research. If you are hoping to become a nephrologist, you may be able to conduct advanced research in nephrology, which can help you prepare for the specialization later on in your career.
Once you finish your internal medicine residency program, you will be prepared to take the American Board of Internal Medicine (ABIM) certification exam. After you pass the exam, you will be eligible to apply for a fellowship in nephrology in order to pursue your dream of becoming a specialist in the field.
Completing a Nephrology Fellowship Program
During a nephrology fellowship program, your studies will focus specifically on kidney-related diseases and disorders. As previously mentioned, CKD is the most common kidney disease in the United States and around the world, but as an aspiring nephrologist, you will also gain expertise in other kidney conditions, including:
Kidney stones

Polycystic kidney disease (PKD)

Acute renal failure

Glomerulonephritis

Pyelonephritis

Bartter syndrome

Dent disease

Nephronophthisis

Gitelman syndrome
Depending on your area of interest, a nephrology fellowship program can last anywhere from two to four years. If you choose to focus your fellowship on clinical training, it will typically last for two years. In addition to learning about the treatment of the conditions listed above, you may also have the chance to learn about cutting-edge clinical treatment options, such as home-suitable dialysis. You will also gain expertise in related areas of clinical care that you will likely encounter in your practice, such as geriatric care and palliative treatment.
Alternatively, you can choose to focus your fellowship on research — either clinical research, translational research, or basic science research. For aspiring researchers, a nephrology fellowship typically lasts three to four years. If you choose the clinical research pathway, you may be able to earn a master's degree over the course of your training. As a nephrology research fellow, some of the topics you might study include:
Epidemiology of kidney disease

Public health strategies to improve access to CKD treatment in developing countries

Drug development for rare kidney disease

Cancer-related signaling pathways in kidney cells
After you finish the fellowship program, you can take the optional Nephrology Certification exam offered by the ABIM to demonstrate your expertise in the field. From there, you start your career as a nephrology-focused clinician, researcher, your researcher/practitioner.
If you are a foreign medical student or graduate, getting a job as a nephrologist might seem like a long way off, considering the years of preparation that are required, but it's never too early to start preparing yourself! A clinical externship in nephrology can be a great way to get a feel for the field and establish connections with medical professionals in the United States before you apply for an internal medicine residency. Contact FMG Portal today to learn more about how this opportunity and the other ways we can help you get matched!