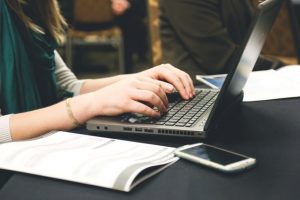 Earlier on the blog, we discussed the importance of brainstorming and planning out your personal statement. If you're going to apply to a U.S. medical residency program in the fall, now is a great time to start writing your statement. From the first draft to the final copy, your personal statement will likely go through lots of revisions, so it is best to get started as soon as you can.
To recap the personal statement planning post, the content of your personal statement should highlight key aspects of your CV, explain why you have chosen your particular medical specialty area, outline your career goals, and demonstrate the personal qualities that make you a great candidate for a U.S. medical residency program. However, putting that down on paper in a convincing way can be a major challenge. Here are some tips to consider as you work on your draft:
Tell a story. Often, you can capture your reader's attention by opening with a personal story or detailing a particularly meaningful experience that shaped your medical interests and career goals. Your personal statement can discuss experiences as recent as medical school courses and graduate externships, or it can reach as far back as your childhood — as long as your story is genuine and relevant to your decision to pursue a medical residency.
Think about your audience. The person reading your personal statement will also be reading hundreds of other applications, so you want to let your own voice shine through. That way, you can stand out from the rest. At the same time, you have to remember that the reader might not be familiar with some of the things you take for granted. Especially as a foreign medical graduate, you should make sure to explain anything that might be confusing — like differences in school systems — in order to clarify for your reader.
Pay attention to flow. On a similar note, you should make sure to organize your paper in a way that makes it easy for your reader to follow. You might organize it chronologically, or you could choose a cause-and-effect structure in which you show how various experiences directed you toward your goal of a U.S. medical residency. It all depends on the story you are trying to tell, but no matter what, your writing should flow easily from one idea to the next.
Keep it succinct. Many U.S. medical residency programs do not set out a word limit for your personal statement, but it's usually best to keep it to 700 words or less. Remember that all of your academic and work experiences are already on

your CV

, so you only need to pick out the most important ones to talk about in your personal statement. That way, you can emphasize the most powerful information and avoid boring your reader.
Even if your first draft doesn't come out perfectly, don't worry! You still have lots of time to re-draft, revise, and edit until you have a personal statement that can truly impress the U.S. medical residency program of your dreams!
If you need help with the residency placement process, FMG Portal is here to help. Contact us today for more information!