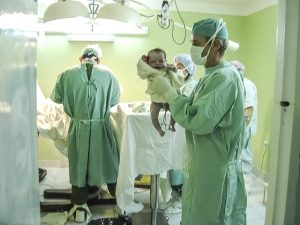 If you want to dedicate your medical career to working with kids, a residency program in pediatrics may be the right option for you. According to 2015 data from the National Resident Matching Program (NRMP), pediatrics was the third-most popular residency specialty area for foreign medical graduates, behind only internal medicine and family medicine.
As a pediatrician, you could work with infants, children, and adolescents, ranging in age from birth to 21 years. Pediatricians are trained to provide preventive care and treat a wide range of conditions, including hereditary diseases, infectious illnesses, and traumatic injuries. You may choose to work in a primary care setting as a general pediatrician, or you may specialize your practice on a certain area of the field. It all starts with a pediatrics residency.
Pediatrics Residency Programs in the United States
US medical residency programs in pediatrics last for three years and provide general training in the wellness of infants, children, and adolescents. However, because pediatrics is such a broad specialty area, the programs can vary widely between schools. That means that when you are searching for residency programs, you should pay careful attention to what makes each one unique.
For example, programs may differ in the relative amount of time dedicated to clinical work in ambulatory and primary care settings. The location of a school often plays a role in this, since some schools are located in large cities where you may end up working at multiple hospitals and outpatient centers, while programs in rural areas allow you to gain extensive experience working at one or two locations. There are also programs that allow you to focus your studies by pursuing a certificate in an area of interest, such as global health, community health, medical education, or academic research.
In general, though, you'll usually spend the first year of a pediatrics residency building a broad base of knowledge and developing basic skills in pediatric care, through a combination of clinical and didactic work. In the second year, you will have the chance to take on greater responsibility in clinical decision-making. You'll probably also have the chance to pursue particular areas of interest through electives. Finally, the third year of a residency program will give you the chance to step into a leadership role in the clinic and prepare for your future as a pediatrician, whether you choose to focus on a specific subspecialty or practice as a generalist in the field.
Post-Residency Fellowship Options
Once you finish your residency in pediatrics, you can start your career as a general pediatrician or you can apply to a fellowship program. Almost all pediatrics fellowships in the US require an additional two or three years of study, although there are a few one-year fellowships available as well. Although this is not a comprehensive list, here are some of the options you could consider:
Adolescent medicine (3 years)

Allergy and immunology (2 years)

Pediatric cardiology (3 years)

Pediatric endocrinology (3 years)

Neonatal medicine (3 years)

Pediatric infectious disease (3 years)

Pediatric emergency medicine (2 years)

Pediatric sports medicine (1 year)
Getting Matched to a US Program
If you are interested in a US medical residency program in pediatrics, you might want to complete a graduate externship or student elective in the field. Not only can these experiences help you decide if pediatrics is the right specialty area for you, but they also look great on your CV. Many residency programs also require foreign applicants to submit a letter of reference from a US physician, and an externship program is a great way to make connections in the States.
FMG Portal offers student electives and graduate externships in many different specialty areas, including pediatrics. Contact us today for more information!