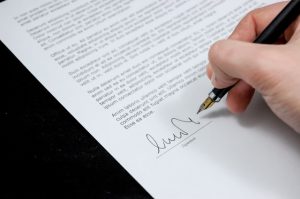 Last week on the blog, we talked about who you might want to ask for letters of reference for a U.S. medical residency program. With the start of the ERAS application process less than a week away, you probably want to start asking some of the people on your list. If you are a foreign medical graduate planning to apply for a residency this summer, here are some tips to follow when asking for a letter of reference:
Ask early.

This is probably most important thing you can do when asking for a letter of reference. That way, your writer has ample time to write you an outstanding letter. Even though the letter is not due until September, you have to remember that the attending physician may be approached by multiple students for a letter, and they may also have work and family obligations to fulfill over the summer. By asking early, you can ensure that your letter finds a place on the physician's "to do" list for the next few months.
Phrase your request wisely.

When asking for a letter of reference, you should do so in a way that ensures that the writer will be able to provide the kind of letter you want — a positive reference that speaks to your clinical skills, academic knowledge, and personal attributes. Therefore, you might want to use a phrase like, "Would you be able to write a strong letter of support for my residency application?"
Don't take rejection personally.

If you get turned down by a potential letter-writer, don't be discouraged! As long as you have asked early, there's still lots of time to find someone else who can provide an excellent reference. Plus, if the writer did not feel comfortable providing you with a positive letter of support, you would not have wanted them to contribute to your application anyway!
Asking over email is okay, but offer an in-person meeting or long-distance call.

Unless you see the attending physician on a regular basis, it's usually okay to send your reference request by email. However, sending a form letter can seem impersonal, so you may want to comment on how much you enjoyed working with them and include a mention of something unique about your experience. Also, you should follow up the request by indicating your willingness to meet in person to discuss the letter further. Of course, if you are a foreign medical graduate requesting a letter from an attending physician in the United States who you worked with during an

externship

or

student elective

, an in-person meeting may not be possible. Instead, you can suggest a telephone call or a video chat.
Be ready to offer additional information.

Although you should not send

your CV

or transcripts with your initial letter of request, you should be ready to provide your letter-writer with information about yourself and the residency programs to which you are applying. They may also ask for a list of things you want them to highlight in the letter. Again, by asking for a letter well in advance, you can ensure that you have time to put together any additional materials they request.
Applying for and landing a U.S. medical residency can be a long and challenging process, but FMG Portal can help you get into the medical residency program of your dreams! Contact us today for more information!