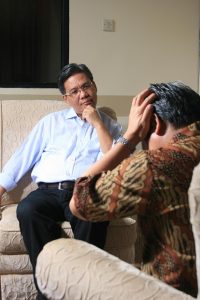 May is National Mental Health Month, which provides an excellent opportunity for foreign medical students and graduates to consider a U.S. residency program in psychiatry If you are interested in working with patients who struggle with mental health conditions, a psychiatry residency can be a great option.
Becoming a Psychiatrist
As a psychiatrist, you would specialize the diagnosis, treatment, and prevention of psychological problems and mental health disorders. For this, you would employ a wide range of treatment methods, depending on the patient's individual needs. For example, you can practice psychoanalysis, utilize the techniques of cognitive behavioral therapy, prescribe medication, or use electroconvulsive therapy to help your patients manage and recover from mental health conditions.
According to the American Psychiatric Association, trained psychiatrists have the expertise to treat both the mental and physical aspects of a patient's health, you might want to become a psychiatrist if you are passionate about both biology and psychology. Additionally, to be a successful psychiatrist, you must be a great listener and have excellent people skills, since so much of psychoanalysis involves listening to patients express their needs and analyzing their condition based on how they act.
Although psychiatry is not the most common residency specialty for foreign medical graduates to pursue in the United States, the growing diversity within the country had led to an increased demand for psychiatrists who are proficient in multiple languages and who are sensitive to the needs of patients from a wide range of cultures. Therefore, if your dream is to become a psychiatrist, now could be a great time to land a U.S. medical residency!
Psychiatry Residency Program Details
A medical residency in psychiatry lasts for four years.
In the first year, you will solidify your medical knowledge and develop a strong foundation in the basics of psychiatry through a combination of clinical rotations and didactic seminars. Some of the topics covered include psychiatric interviewing, diagnosis using DSM-IV, introductory psychopharmacology, and crisis stabilization.

In your second year, you will build on what you learned in the first year, gaining more knowledge in psychopharmacology, the diagnosis of more complex conditions, and consultation-liaison psychiatry. Additionally, you may have the opportunity to pursue electives in particular subspecialties of interest.

Studies in the third year become even more advanced. In many programs, the third year is dedicated to developing outpatient treatment skills, so you will be exposed to therapeutic modalities such as group therapy, cognitive behavioral therapy, dialectical behavioral therapy, and advanced pharmacotherapy. Additionally, if you are interested in scholarly research, you might have the opportunity to work on basic science, translational, or clinical studies.

In the fourth year, you will have the chance to unify all of your knowledge and focus on your particular clinical or research areas of interest. You may be designated a chief resident, so you would hold a leadership position and gain experience working with the most complex patient cases.
After completing a psychiatry residency, you can begin practicing as a psychiatrist, or you can consider a one-year fellowship in a particular sub-specialty area, such as:
Addiction psychiatry

Child/adolescent psychiatry

Geriatric psychiatry

Forensic psychiatry

Psychosomatic medicine
Whether you hope to pursue a residency in psychiatry or any other medical specialty, FMG Portal offers valuable resources for foreign medical graduates. Contact us today to learn more about how we can help you get matched to the program of your dreams!