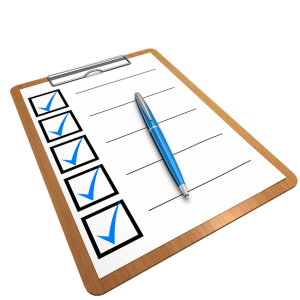 It's down to the wire — the final deadline for the 2018 ERAS application process is less than two weeks away. On September 6, 2017, foreign medical graduates can start applying to ACGME-accredited U.S. medical residency programs. A week later, on September 15, 2017, the programs start receiving applications. Two weeks after that, on October 1, your Medical Student Performance Evaluation (MSPE) will be released to the programs to which you applied.
As these deadlines draw nearer, you need to add all of your application components to your MyERAS account. That way, when medical residency programs receive your application, it will be complete and ready for the review process. Over the next two weeks, make sure that you have checked each of the following items off of your list of things to do:
You have provided proof of ECFMG Certification.
All foreign medical graduates applying to U.S. medical residency programs must demonstrate proof of certification from the Educational Commission for Foreign Medical Graduates (ECFMG). By now, 2018 ERAS applicants need to have already completed all of the requirements, but it is important to double check that there are no problems with your proof of certification. That way, you can avoid any glitches in the application process.
You have updated your curriculum vitae (CV) and uploaded the final version to MyERAS.
The curriculum vitae is a constantly evolving document, so there is a good chance that you will need to add your most recent activities before uploading the final version in your MyERAS portal. Before you send off your application, you want to be sure that all of your relevant educational and work experiences — especially student electives and clinical externships in the United States — are highlighted on your CV.
You have perfected your personal statement and uploaded the final version to MyERAS.
By this point, you are probably tired of poring over your personal statement. On the blog this summer, we have covered all of the steps of the writing process for the personal statement — from initial brainstorming to drafting to revising to final editing — and it can be a grueling process. But now that it's over, you have a polished personal statement that can convince the application reader at your dream program that you are an excellent candidate. After reading over your personal statement one last time, upload it to your MyERAS account so it is ready for submission.
You have ensured that your letter writers know what to do to submit your letters of reference.
Even though do not write your own letters of reference, it is your responsibility to ensure that your letter writers have them done on time and know what to do to submit them properly. If your letter writer has not yet submitted the letter, don't be afraid to send them a polite email reminder. You can also offer to help with any questions or problems they might encounter. Physicians have a lot of responsibilities to keep track of, so your letter writers will likely appreciate anything you can do to streamline the process.
Your Medical Student Performance Evaluation (MSPE) is complete.
This document is released to your chosen residency programs by the dean of your medical school on October 1, so you still have over a month until the deadline. If you have not yet met with the dean to discuss your performance over the course of your education, that should be a top priority. Also, if you went to a medical school where very few graduates apply to residency programs in the United States, you may want to send an email to the dean to check in, in order to make sure that they are aware of the upcoming deadline and are comfortable with the submission process.
You have narrowed down your list of programs and know where you want to apply.
There are lots of great residency programs in the United States, so it can be a challenge for prospective residents to narrow down the options. Foreign medical graduates most commonly apply for residencies in family medicine, internal medicine, and pediatrics, but there are a wide range of other specialty areas that you might want to consider, including newly added specialty areas that are available for the first time this year. In addition to specialty area, you might also want to think about the region of the country in which you want to live, as well as whether you prefer a residency program in an urban setting or a rural setting. In these last few days, make sure that you are excited about every aspect of the residency programs to which you submit your application.
By spending this week meticulously ensuring that every part of your application is polished and perfect, you can maximize your chances of getting matched. After finalizing your application, the only thing left to do is wait for Match Day!
Whether you are applying for a U.S. medical residency program in 2018 or looking ahead to future application cycles, FMG Portal is here to help. Contact us today for more information!