Becoming a physician in the United States as a Foreign Medical Graduate (FMG) requires some hands-on medical experience within the states. That is why FMG Portal has dedicated its services to helping FMGs through every step of becoming a practicing physician in the U.S. We do this by offering connections to clinical externships, clinical electives, clinical clerkships, clinical rotations and clinical observerships. We also offer assistance with CVs and Visas, so there is no kink in your pathway to a U.S. Residency.
Services
Getting U.S. experience is the impetus behind most of FMG Portal's services, and it does this by connecting you with programs that provide differing levels of experience. Many of the services, such as clerkships vs rotations are the same if not similar, but knowing specifically what they are will help the FMG to understand what they are seeking.
Clinical Externships
Externships are only available to medical graduates, and they do not qualify for medical school credit. They give FMGs the hands-on experience that will be required by many residences in which applicants apply. Some externships cover specific specialties, which can be very beneficial during the Match process if you are looking to join a certain medical specialty.
Some of the other skills that may be learned in an externship are how to write SOAP notes, participate in diagnosis teams and learn how to use an electronic health record (EHR). While FMGs may have already learned adequate diagnosing skills during their medical training abroad, hands-on experience within the U.S. allows them to learn any nuances that could hinder the medical process by being performed in a manner inconsistent with U.S. healthcare system norms.
Clinical Electives
For foreign medical students, clinical electives are a good opportunity to get hands-on training, and FMG Portal has connections with multiple teaching hospitals. This allows the student to get to work closely with attending physicians in a U.S. healthcare setting.
Foreign medical students who have clinical elective experience in the U.S., especially in their desired specialty, have a much better chance of getting a residency match. Not only does it show experience in the U.S. healthcare field, but it also allows for the opportunity to get U.S. letters of recommendation.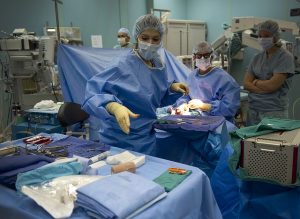 Clinical Clerkships
Clerkships and electives are terms that may be used interchangeably, as they are very similar. In some curricula, they are compulsory. However, U.S.-based clinical clerkships offer a unique opportunity for foreign medical students to participate in healthcare delivery with experienced physicians. This will not only aid the student in passing their USMLE tests, but it will also give the opportunity for cultural adjustment. Cultural adjustment may not seem like a huge component of U.S. healthcare experience, but it greatly aids in communication, which can enhance an interview.
Clinical Rotations
Rotations are very similar to clerkships, and again, the names can be used interchangeably. The word rotation is significant in U.S. rotations because it implies that a student rotates through different specialties in their final year of medical school while supervised by a physician in order to obtain a well-rounded medical education.
Clinical Observerships
Observerships are established when an FMG gets to observe a specialty by participating in a 2-4 week program. This is meant to allow the FMG to get an idea of how the American culture of healthcare works, and it allows the FMG to establish connections along with witnessing firsthand how the medical care is provided in the particular specialty.
Other Services
Visas
Immigration laws are constantly changing with the current administration, and this can make applying for visas difficult and confusing. That is why FMG offers assistance in this endeavor, so you can focus on the more important matter of your education and residency placement.
CVs
Having a thorough CV is essential to residency placement, but it can be difficult to pare down a full resume to fit the needs of a certain specialty. Our experts can take out the unnecessary details in order to highlight the parts of you that will make you appeal to your residency program director.
ERAS Application
The ERAS application is obviously one of the most important parts of the Match, and filling it out properly could mean the difference between consideration and simple rejection. FMG Portal's staff can help you fill it out properly, so you don't miss your change based off of a minor issue.
If you are a Foreign Medical Graduate or a Foreign Medical student looking for resources to get Matched and become a successful physician in the U.S., FMG Portal has the skills, resources, and the connection you have tohave to get you there. As an FMG, you must prove the quality of your education through ECFMG certification, CVs and applications that show that you are the type of resident a program would want to have educated under them.
Don't travel the FMG road to medical practice in the U.S. alone. Get help where you need it with FMG Portal.